Next on the Mace's itinerary was Regina, Saskatchewan!
Hosted by a gracious group of gentlefolk who went by the name of CAPP Regina, the Mace first posed for a glamour shot, framed by the city's famous twin towers. From there, the Mace's hosts took it on the grand walking tour of the city.
As they walked down toward Victoria Park, they passed in front of a memorial for the trial of Louis Riel, regarded as Canada's most controversial father of Confederation. It seemed a certain MP had been making some unkind remarks of late about the man who brought Manitoba into Confederation. "Funny," thought the Mace "That particular MP waxed eloquent about the Orange Revolution in the Ukraine, yet saw fit to call Riel's civil disobedience villainy. I guess the Devil's in the details."
Next up was a group photo with its hosts in front of the city's monument to those who died in the Great War. It was a fitting gesture, as Canada's final veteran of that war had died only 3 days earlier. With fitting Canadian modesty the veteran, John Babcock, asked not to be given a state funeral, saying "I just happened to be at a certain place at certain time".
Next, they moved on to the memorial from other of Canada's conflicts. One of its guides held the Mace in honour of the WWII and Korean Wars, and Peacetime Operations soldiers from Regina killed in action. "So many laid down their lives for me," said the Mace. "Makes me think that maybe Parliament, messy an institution as it is, really is worth all the trouble. After all, showing up for work is a far easier job than these folks had."
Moving on, they happened across an old friend. "Sir John A! What are you doing here? Didn't I just see you in Charlottetown?" Sir John had no comment, choosing instead to retain his legendary composure whilst posing for a photo with the group. What a guy!" said the Mace "but he's still looking a bit stern about the current state of things. Worry not, Sir John. We'll be back to work soon!"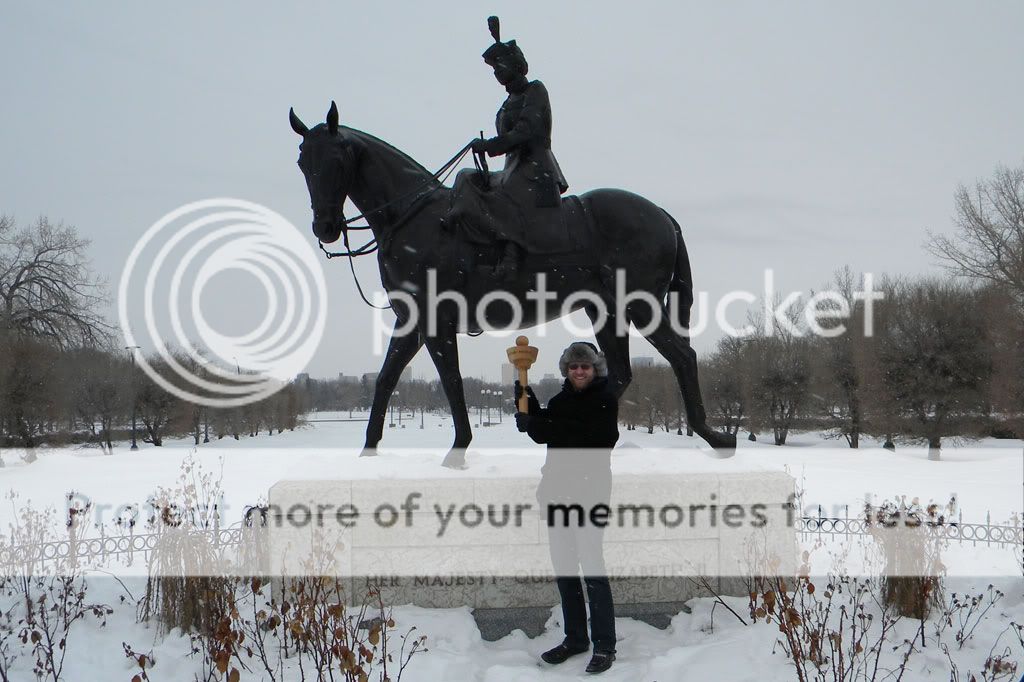 On their trek continued until they passed by Her Majesty, Queen Elisabeth II. The Mace was ecstatic. "Being that my existence is in her service, it's most appropriate that I get a shot of this for my photo album." While being held up next to HRH, the Mace asked her a few questions on her opinions about the current prorogation. Following her role as a constitutional monarch, she opted for silent neutrality on the subject.
As the tour wrapped up, the Mace's guides left the best for last - the Saskatchewan Legislative and Executive Building, seat of democracy for the province. "Things seem to check out here all right. Let's call it a day." And with that, the Mace's gracious hosts took it on for a bit of Saskatchewanian hospitality before the next leg of its journey.
"It's just not a going away party without a pint of the local stout and some snowshoeing," insisted the hosts, "We'll post some more pictures on the CAPP Regina Facebook page for you to remember the fun by." "Works for me," replied the Mace. And a fine time was had by all.
And from there, it was a short hop skip and a jump to Winnipeg, Manitoba!